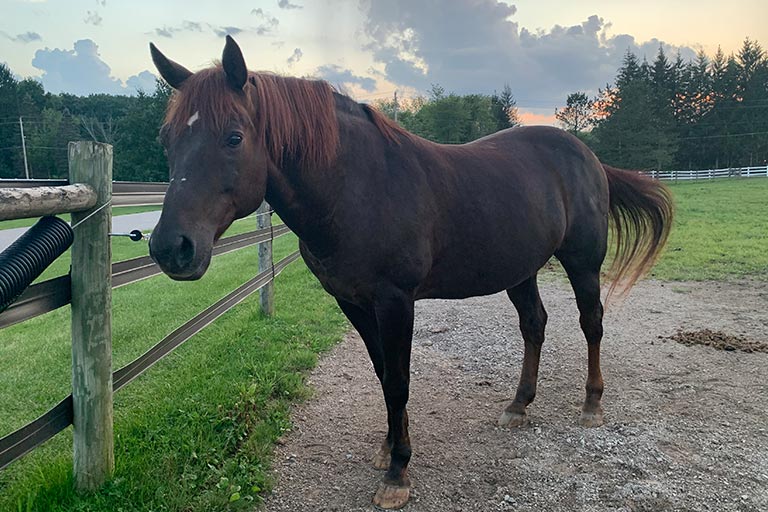 Generously donated by
Wendy Bishop
Howdy! My name is Bert. I am a sturdy liver chestnut Quarter Horse gelding. I am built like the "old style" Quarter Horses – solid as a rock. I was born in 1998, but don't let my age fool you as I have a lot of years ahead of me. I am super smart and I love to work. With my great size of 14.3 hands tall, I am quite the versatile guy. I am short enough not to intimidate the smaller riders, but strong enough to carry a small adult. I am awesome in the ground programs too – you can reach all parts of me when you are taping horse part cards to my body. All these cool activities sure keep me busy.
I was donated in August of 2021 by Wendy Bishop. Sadly, my dad, Michael Bishop, passed away unexpectedly. We had spent almost my entire life together. We trail rode with my buddy CJ, who is here too. I was ridden Western my entire life. Michael and I did team penning, ranch trail obstacle courses and we just plain hung out together. I sure do miss him, but I know he would be proud of me being a part of this wonderful team.
I love to be groomed and I could just stand there all day long. The more attention, the better. I am very good with most of the activities in lessons. My trot – well that is just lovely. It is very slow and consistent. It is easy to lead me, but I do prefer verbal cues, so please try not to pull or drag me along. It is my "way of going." Sometimes I like to stop and look at the other horses in the ring. I guess you could say I am very social and I like to know what is going on. I will listen to whatever you ask of me, I just want to please.
I love making lots of new friends – both humans and horses. Can't wait to meet you!