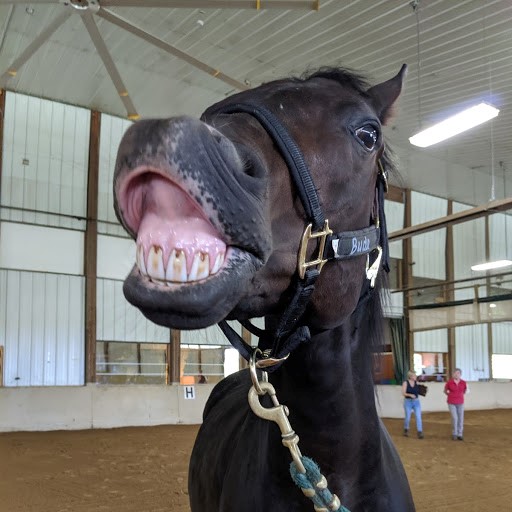 Howdy y'all. My name is Buda. I am a 15 hand, registered bay Appendix Quarter horse, "Bett Me A Scotch." I was born in 2001 and have done a lot. My donor, Kimi Baduria, spent tons of time with me. I have been ridden English, Western, trails, obstacle courses, cross country and even some cow sorting. I am a guy that is "game" to try anything. I just love attention and aim to please. My favorite thing is making people smile (cause I can do that too) – one of the staff can show you my cute trick when I am in my stall.
I am exceptionally lovable, as you may notice. I just enjoy being with people. You may see me try to put my head on your shoulder very gently or even try to hug you. Please remind me to stay in my "personal bubble" when we are working. I am sorry, sometimes I just can't control my super friendly personality. I guess that would be my only flaw.
I am great with all the activities in the ring. I have impeccable manners and I am super easy to lead – just remember to use your verbal cues please. I stand perfectly still for grooming. I just enjoy it so much – I am the center of attention and I couldn't be happier! I may put my ears back when you tighten my girth – no worries – not everyone enjoys that, so just go slowly.
I know I will meet all of you very soon! I am so versatile that I am guaranteed to be a favorite, oh, wait – I think I am already. I am truly looking forward to working in the Veteran's program here too. This place has so many programs and I just love variety.
I was donated in August of 2019 and I have made so many new friends – both two-legged and four-legged already. I plan on being around for a while, so please make sure you check out the cute little bay guy when walking down the aisle. I will be waiting and watching for you. I know once you work with me you will think I am the sweetest horse in the barn!