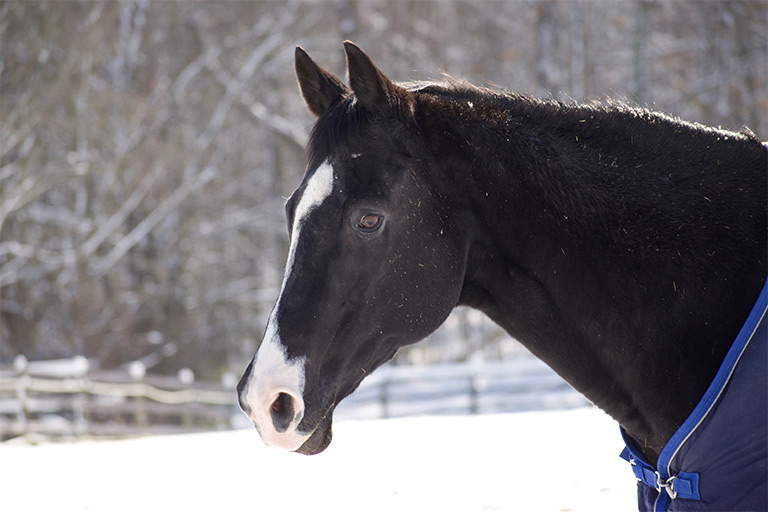 Generously donated by
Nancy Mills
Generously sponsored by
Anne and Ike Tripp
Hi all! It is a pleasure to meet you. My name is Dash – well, my registered name is Black Mercedes Dash. I am an Appendix Quarter Horse. Being that I have a lot of racing bloodlines, my first career was on the Quarter Horse racing track, so I have a tattoo from when I did that. I did not stay on the track long though as I found other avenues that suited me better.
As you will soon find out, I am quite the cuddle bug; I just love attention and I am such a character. You will see that I stick out my tongue only to the left. There is nothing wrong with me; it is just part of my personality. It's my way of saying, "hi" – it does get me lots of attention.
I was donated to Fieldstone Farm in April of 2015 by Nancy Mills of Chagrin Falls. This place is perfect because I have been ridden English and Western; I am quite the versatile guy. Nancy rode me in dressage for a few years and I enjoyed that. I am definitely a people pleaser and thrive on attention. I was born in 1996, so I do have a few miles under my belt, although you would not know it by looking at my handsome body.
I am a black, 16.1-hand, refined guy. I am a real eye catcher. I am super sweet and very easy to work with. If I do say so myself, I have the best manners in the barn. I love, love, love to be groomed. I could stand there all day and soak up the attention.
I really enjoy all of the activities here that keep me busy. I am very well-mannered and good at reading people so I am great in our mental health programs. Plus, I am one of those horses that everyone just loves to be around. I am super easy to lead; I pretty much just follow you. I also like voice commands as they help me to do what you want.
I am very steady and level-headed in the ring, and I am an awesome horse for riders off lead. I would prefer not to play a bunch of games while in the ring; I would rather get straight to work. I also enjoy working outside a lot as there are lots of things to look at out there.
Well, I am looking forward to spending time with all of you. See you soon!