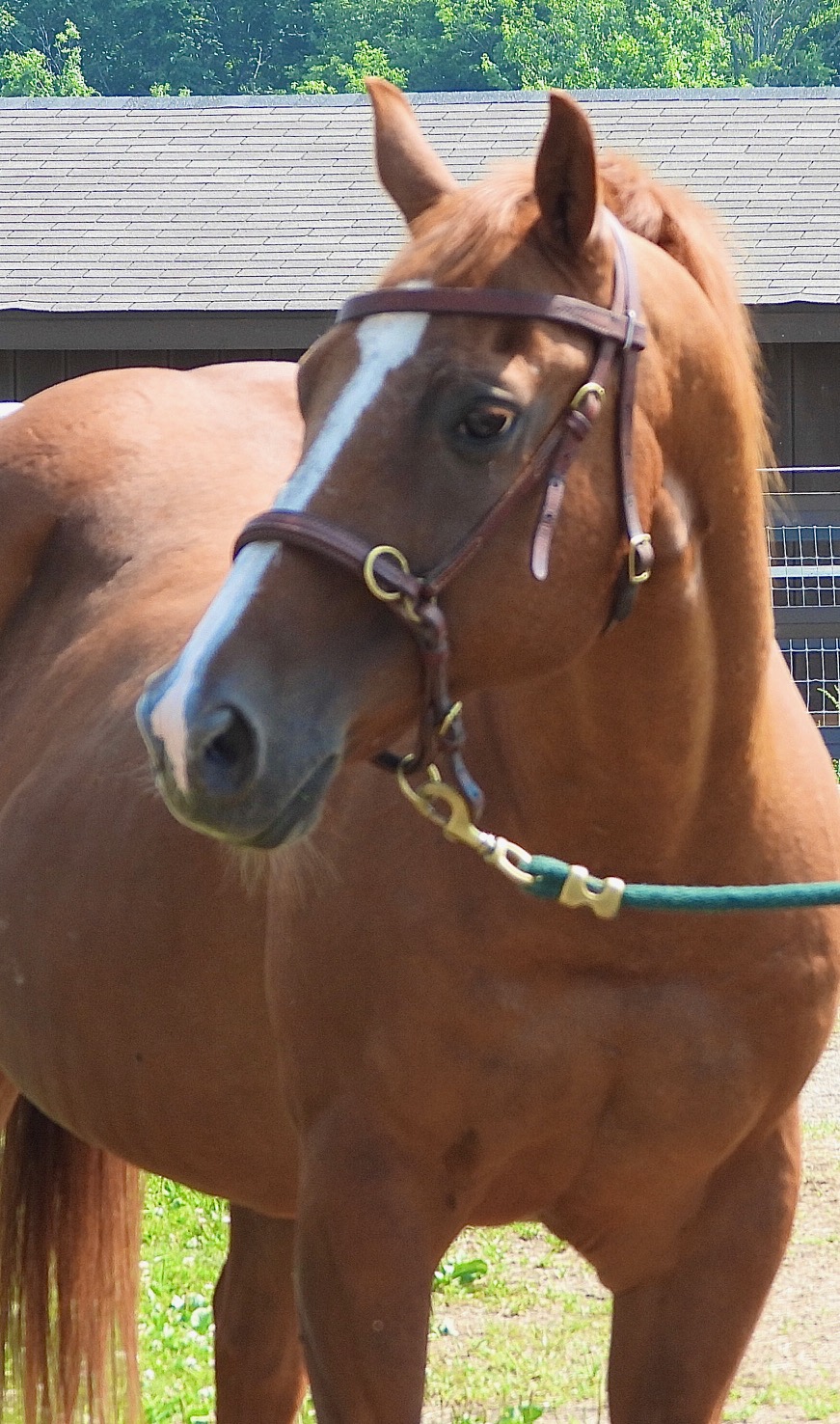 Hi there! My name is Leo. I am a cute, sensible, chestnut Quarter horse gelding born in 1999. I am a 'been there, done that' kind of guy. I have mostly been ridden Western, taken lots of trail rides, contested and I have even been shown in 4-H. I just love to be doing something and I am very eager to please. At 15 hands tall, I am the perfect size for kids and small adults. I was donated to Fieldstone in July of 2020 by Jerry Cavanaugh. Boy, I sure do love it here! There is so much to do and I get lots of love and attention.
My favorite activity is being groomed; it makes me look more handsome!  I stand perfectly still enjoying every minute.  I am a very patient guy with impeccable manners. I enjoy the activities in the ring as well, but nothing is as fun as a good trail ride or walk on the sensory courses. I do walk with a purpose and I have a nice forward trot. Since I have been trained in Western, I neck rein incredibly well too. One could say that I am an athletic guy! Don't let my age fool ya! I look fabulous. Yes, I am a little sway back, but I am perfectly fine and healthy to teach the little ones how to ride. I am an awesome confidence builder.  Not to brag too much but I am a very trust worthy guy and I totally take care of my riders. You will soon see! You may also notice the scar on my left front and hoof, no worries, it doesn't bother me.
There isn't a whole lot to tell you about me, no tricks, no secrets, what you see is what you get! I guess that is why this is the perfect career for me.
I am looking forward to making lots of new friends!  I have made lots already playing in turnout, not sure I can pick a favorite yet though.  Speaking of favorites, look out, because I believe I am going to be up there with the others.