Our program is made possible through the help of more than 200 volunteers who come to the farm every week to work with our students and therapy horses. We often hear from our volunteers that their experience with our students is as enriching for them as it is for those they are helping. Read on to learn about their stories.
Lynne finds inspiration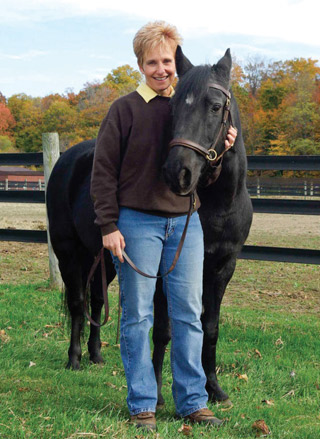 "The students are so inspiring to me. I feel it is a privilege to be a bright spot in their day. Whether it is watching them take pride in a new accomplishment, or bond with their horse, I know that time spent here has enriched their life. Seeing the pride and joy on the beaming faces of their families and friends makes you truly appreciate the ripple effect our program has on people's lives."
Lynne Netschke,
Volunteer since 2007
---
Horses transform Ernest's life
"Coming to Fieldstone, allows me to take a vacation from my chronic pain," Ernest says, explaining how our therapy horses have helped him heal both physically and mentally. "They have transformed my life!"
Ernest, a Vietnam veteran, first came to Fieldstone Farm as part of our Veterans Administration program. "I had never really processed my feelings from Vietnam," he said. "I was in denial."
Through working with horses, Ernest was able to sort out his feelings and start to heal.  Scores of veterans have come to Fieldstone Farm and found the same success.
The program helped Ernest so much that now he is giving back to others and is a volunteer at Fieldstone Farm in the therapeutic riding and carriage driving program. He enjoys helping others find confidence, courage and independence, like he did. He recalls how he helped a veteran who is a triple amputee hold the reins while carriage driving and how they both felt such joy in this accomplishment.
---
Marian believes in power of horses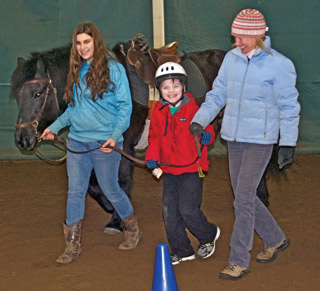 Longtime volunteer Marian Ruddock has witnessed many student milestones that have deepened her belief in the power of horses. "It's easy to find joy in the small miracles that take place here every day," she says recalling when…
A young man with little confidence, found success with horses and began to believe in himself.
A teenager who rarely speaks, became so relaxed and comfortable around the horses that he initiated a conversation with others.
A student with autism who often rocks back and forth, sat absolutely still and connected to the world while riding.
A veteran realized she was capable of being more open and patient with others after interacting with our horses.
"This is the magic that happens every day with the horses at Fieldstone Farm," Marian says. "The bond between horse and rider has no boundaries."
---
Christine Gives Back
"Walking through the doors of Fieldstone Farm is the best thing that has ever happened to me. I have never felt such compassion."
Christine came to the farm 11 years ago with her husband to help him heal from a traumatic brain injury. Her parents were volunteers at the time and they urged her to come.
But this was just the beginning. A year after Paul started in the carriage driving program, she starting riding to help manage her own multiple sclerosis. "I remember sobbing when I got off," she said remembering how good it felt and how kind everyone was.
Since that time, Christine has become one of our most active volunteers and board members. She is driven to help Fieldstone Farm because it has meant so much to her and her family. She wants to help others feel the support she has felt over the years.
Christine is pictured above with her good friend and longtime volunteer, Tammie Packer.
Volunteer since 2007.