We have an active 21-member board that meets 10 times per year. 100 percent of our trustees give annually, in addition to connecting us to others interested in supporting our organization.
Our Foundation Trustees are the exceptional stewards of our endowment fund. And our Emeritus Trustees are those who have remained active in the organization for many years and continue to advise and support us.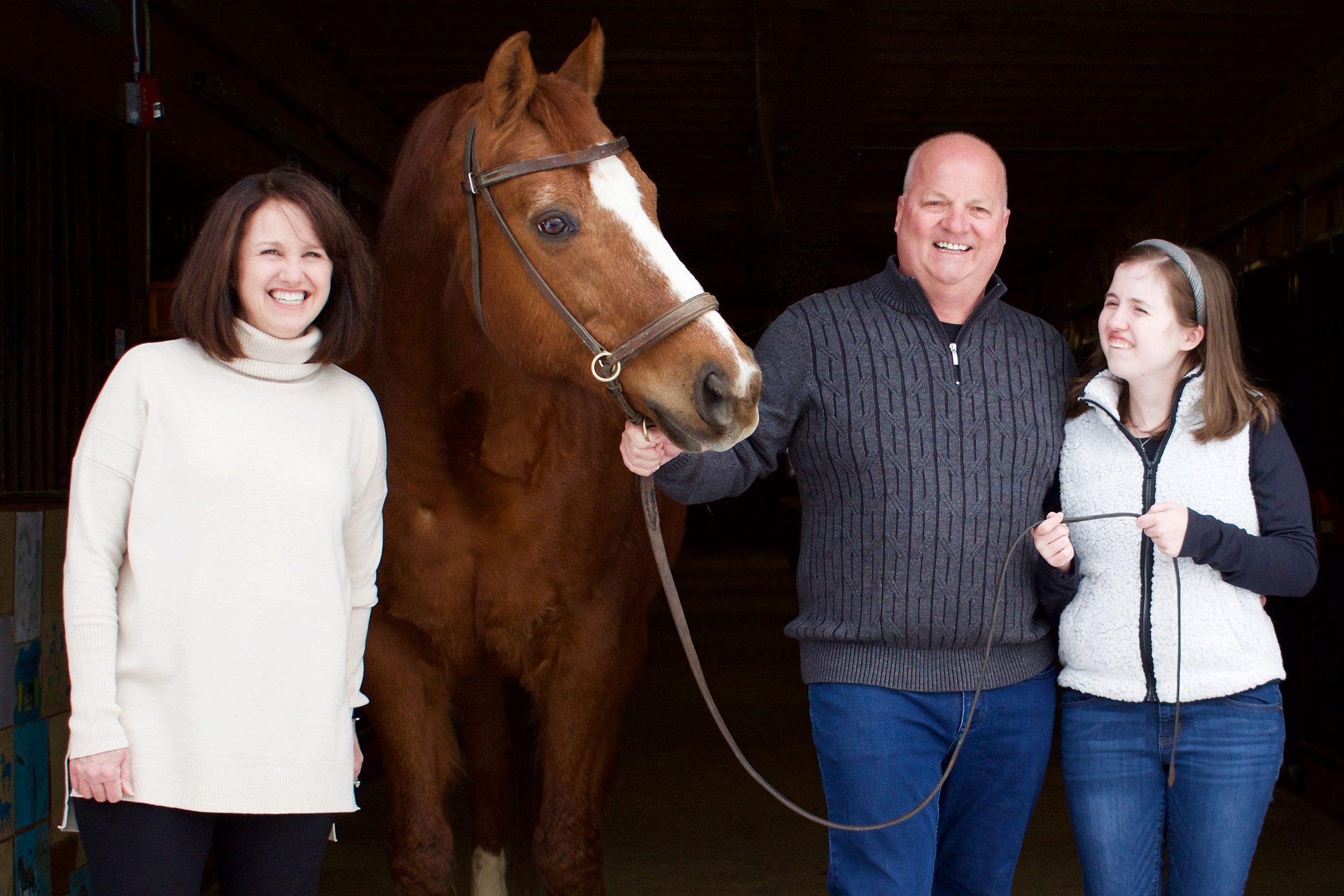 Jim Donohue, our current board president, holds Empire with his wife, Katy, and daughter, Megan, one of our students. 
We are grateful to all who have served on our boards, helping Fieldstone thrive and continue to lead the industry with ground-breaking programming.
James C. Donohue IV, President
Thomas H. Allison, DVM, JD, Vice President
Beth A. Reimer, Treasurer
Vanessa Mavec King, Secretary
R. David Banyard
Kristin Dailey
Anthony Drew
Mark S. Fusco
William M. Hegarty Jr.
Elizabeth Gale Kennedy
John M. Kundtz
Mark A. McClendon, JD
Kyle Merrill
Craig Nielsen, MD
Brandon S. Roytberg, JD
Richard M. Schupp
David J. Steiner, JD
Jane Temple
Nadine Wallman
Ryan A. Walters
Lynnette Stuart, Chief Executive Officer
Mark W. Teague, Chair and President
James B. Naylor, IV*, Vice Chair
Paul Neidhardt, Treasurer
Jane C. Lehman, Secretary
Robert I. Gale, III*
Al Kantra
Joseph J. Mahovlic*
Kurt R. Packer
Ed Pavlish
Susan L. Racey
Richard B. Renner
T. Rodney Twells
Carol Horner Donaldson*
KC Henry*
Alison Jones*/**
Elizabeth B. Juliano*
Constance Lincoln**
William J. O'Neill, Jr. */**
Robert J. Rogers *
* Fieldstone Farm Emeritus
** TRC Foundation Emeritus
Charles Alusheff+
Geoff Baker
Johnni C. Beckel
Jody Bell
Laura Bower
Niketa Chheda
Betty Cope+
Robert J. Crump+
Elizabeth Daane, LSW
Kathleen A. Dennis
Richard A. Desberg+
Kevin J. Ellison
Joan M. Englund
Paulette Gaia
Tom Galvin
Timothy F. Geisse
Christopher Gilmore
John A. Giltinan
Katharine A. Goss
Jonathan Greenberg
Tim Gretkierewicz
Emily Alexander Hamilton
Lynn Handke
Sunnie Hellman
Kenneth P. Horsburgh, Jr.
Anne Houin
Mozelle Jackson
Leslie Kantra
+deceased
Anne Marie Kollander
Amy M. Kuhn
Scott D. Kuhn
Ellyn Lefko
Jane C. Lehman
Sharon Lesinski
Carolee Lesyk
John T. Makley
Judith B. McConnell
Lisa McConnell
Mary McMillan
Mary R. Miller
Sacara Miller
Laura Mock
Barbara Morgan
Elaine Motylinski
Paul A. Murray+
Steve O'Neill
David A. Osborne, Jr.
Tammie L. Packer
Ed Pavlish
Sandra Pianalto
Susan L. Racey
Thomas Rathbone
Rick Renner
James M. Rosenberger
James B. Rucker, Jr.
Marian Ruddock
Teri Schaffer
Katharine Scovil
Wilton Sogg+
Robert F. Sposito+
Billie Steffee+
Amy L. Stephens
Debbie Dolan Sweeney
Jeanne Sydenstricker
Mark W. Teague
Christine Thompson
Thomas Tobin
Edward R. Towns
Susan Turben
Rodney Twells
'Ilaisaane Tyree
Judith F. Varty
Margo Walker
Betty Weibel
Allen K. Wiant
Benjamin Wiant
Amanda H. Wilcox
John H. Wilharm, Jr.
James S. Wolf
Lynne Zele