Our horses help people of all ages with a variety of emotional, physical and cognitive challenges.
Riding helps build strength to sit-up, walk, run or climb. Time with our horses can also help people find the courage to overcome anxiety or deep sadness that has been holding them back. And exploring an educational concept on horseback can bring it to life and build understanding.
For everyone who touches our horses, no matter their age or ability, they discover a confidence-building experience to help them to heal and grow.
Watch our video to find out how our therapy horses are changing lives. 
We meet the needs of our students
Every one of our students is unique with a different set of goals and abilities, which makes our individualized programming invaluable. Some ride, some drive carriages, and some work side-by-side with a horse in the barn, in the arena or out on trail.  We partner closely with parents, doctors, therapists, teachers and counselors to design meaningful sessions that will improve a student's physical and emotional well being.
Find the program for you...
We offer a variety of programs for children and teens to help build confidence, independence, motivation, social skills and strength.
Our adult programs include therapeutic riding, carriage driving and one-on-one sessions with our horses.
We have one of the country's largest programs for veterans. Thanks to generous donations these programs are free to all participants.
We partner with more than 50 other non-profits, schools and other organizations to serve the community.
Experts in the field lead workshops throughout the year to advance learning.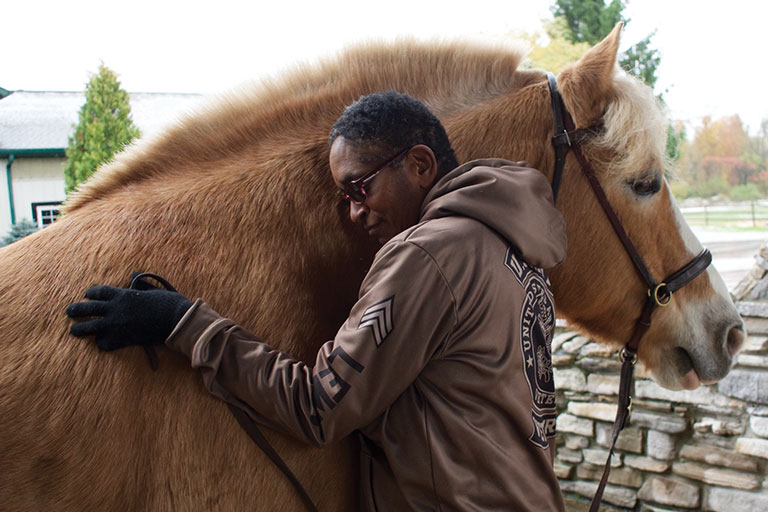 Veterans Connect with Horses
When Jan comes to Fieldstone Farm each week, she forgets about everything else going on in her life and takes time to just be with the horses and the supportive community of veterans, volunteers and staff at the farm. "Fieldstone is another world," she says.