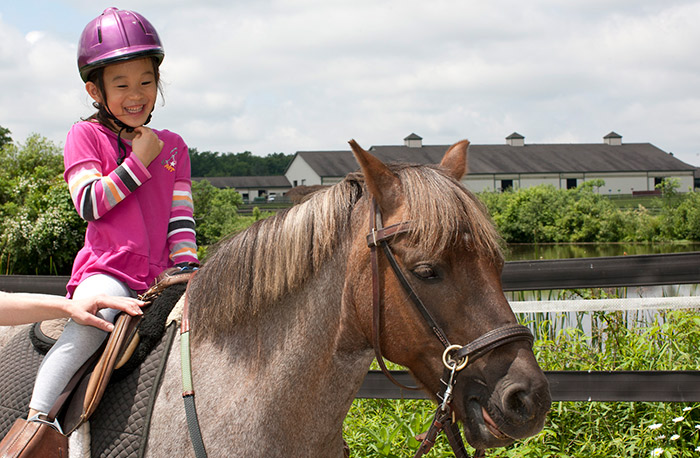 We see it every day at Fieldstone Farm. Our horses motivate, encourage and comfort. They help our students build confidence and strength, making a connection without saying a word. Their generous hearts and willingness to serve transform the lives of our students and their families.
Our programs are designed to meet the diverse needs of our students
Every one of our students is unique with a different set of goals and abilities which makes individualized programming critical. This means taking into consideration the size, gait and temperament of a horse to match a participant's needs. It means selecting adaptive equipment when necessary and, most importantly, it means working with parents, therapists and counselors to design meaningful sessions that will improve a student's physical and emotional wellness.
Our instructors are the best in the business. They not only are highly trained and certified by PATH International, the association governing the therapeutic riding industry, they are passionate about working with people with special needs and helping them experience the therapeutic power of horses. Fieldstone Farm staff is trained to understand the diverse challenges facing people who have: autism, Down syndrome, learning disabilities, anxiety, depression, PTSD, cerebral palsy, developmental delays, multiple sclerosis, OCD, ADD, spinal cord injuries, blindness, hearing loss and many others.
Our programs include:
Therapeutic Riding – Our riding lessons are delivered by PATH International certified instructors and incorporate a wide range of therapeutic goals into each session. Individuals ride weekly in small groups of three or four students.
Hippotherapy – Hippotherapy uses the movement of the horse to achieve therapeutic goals as a part of physical, occupational or speech treatment. Hippotherapy sessions are conducted by a licensed therapist who is also certified by the American Hippotherapy Association. Fieldstone Farm partners with Galvin Therapy Center to deliver pediatric physical therapy sessions.

Carriage Driving – Students learn a variety of skills while navigating our wheelchair accessible, horse-drawn carriages with the help of a trained volunteer and PATH International certified instructor.
Workshops –
Fieldstone Farm offers continuing education for certified instructors, those interested in becoming certified and volunteers seeking to expand their knowledge about therapeutic horsemanship. Click here for more information.
Barn and Classroom Programs – Fieldstone Farm offers a wide range of programming that, depending on the class, addresses emotional wellness, socialization, leadership skills, teamwork and horsemanship skills.
Veterans Programming – Our specialized programming for veterans includes therapeutic riding, carriage driving and unmounted sessions designed to help with the emotional and physical challenges of military service. This program serves approximately 200 veterans making it one of the largest equine programs for vets in the country. Our ongoing partnerships with the Veterans Administration, Volunteers of America, Recovery Resources and Ohio Operation Military Kids have been instrumental in providing relevant and meaningful programs for our members of the military. For more information, click here for our Veterans brochure, or call Aviva at 440-708-0013, ext 124.
Summer Camp – Camp runs daily from early June through early August for children age 6-16 who are interested in an enriching, horse-oriented experience. Campers enjoy outdoor natu
re and art activities, horse care and horseback riding all with a special theme each week. For information on next year's camp, check our camp page in early 2023. If you have questions, please call Deb at 440-708-0013, ext. 145.
Alternative High School – Gaitway High School is an alternative high school administered by the Educational Service Center of the Western Reserve (ESCWR) for students from any school district who need a non-traditional school setting. Students receive a full academic program which meets the Ohio Department of Education standards. In conjunction, a vocational education program gives the participants an opportunity to learn job and life skills. For more information, please click here for our Gaitway High School page.