Our program offers veterans a place of support, full of empathy and free of judgment.
Through working with our highly trained team of therapists and horses, veterans learn skills to overcome the struggles and stressors of everyday civilian life and heal from emotional and physical trauma.
Our licensed mental health professionals and certified instructors create a safe and accepting environment for our veterans and their families. We see transformational changes in our veterans after bonding with our horses, including:
Improved relationships
Greater confidence
Increased mindfulness
Reduced anxiety
Lower blood pressure
Learn more about our programs below or call to find out more information at: (440) 708-0013.
Thanks to the generosity of our donors, our veterans programming is free to participants. Our collaborations with organizations such as the Veterans Administration, the Wounded Warrior Project, and Ohio Operation Military Kids help us to develop sustainable and meaningful programs for active-military personnel, veterans and their families. Below are some of the programs we offer our veterans.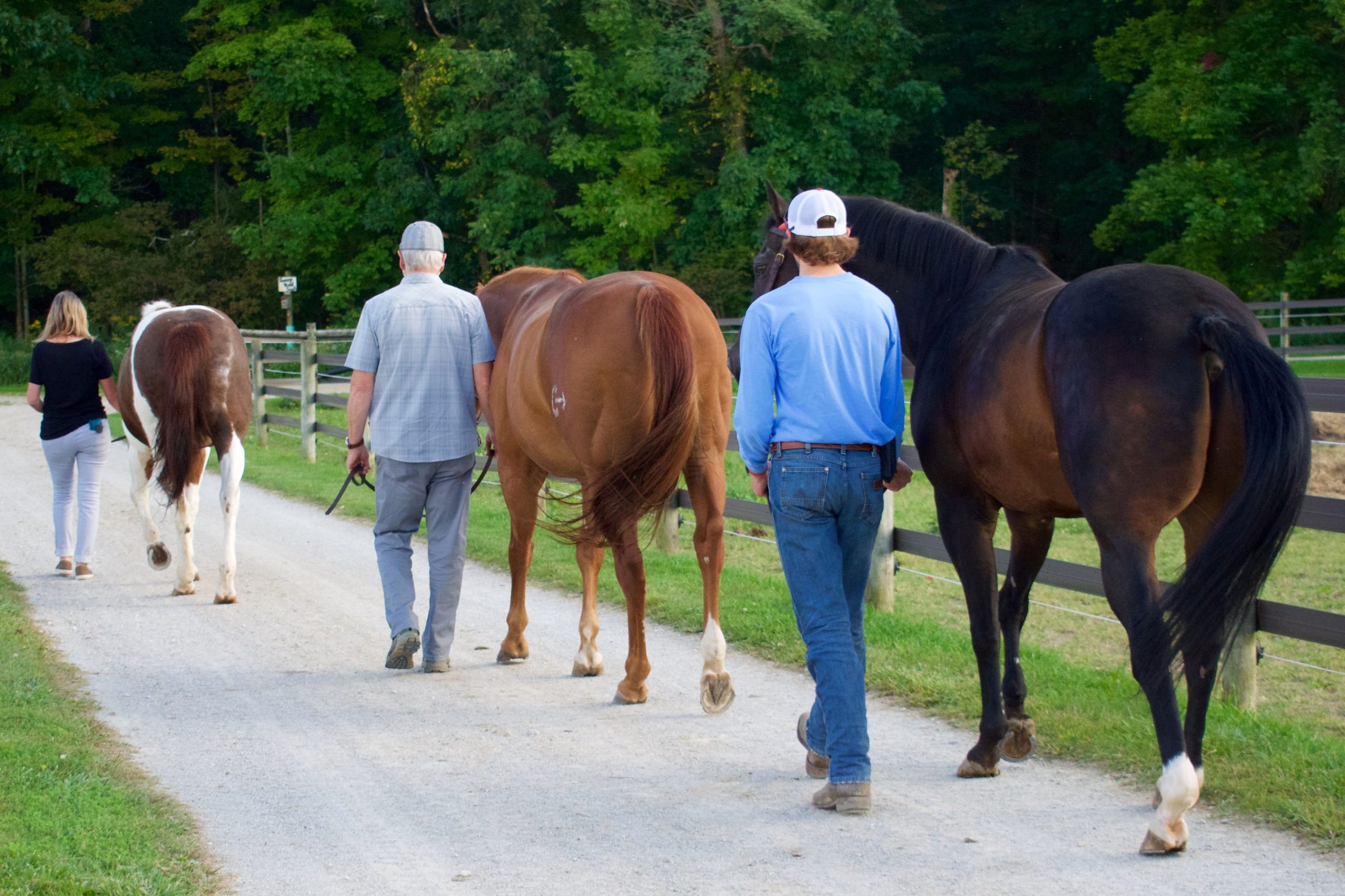 Grooming, leading and working with a horse one-on-one helps our participants to slow down and learn mindfulness. Often our veterans say that when they are with horses it is one of the only times of the day when they can be completely in the moment as they focus on bonding with our four-legged creatures. Working in the round pen is one of the highlights of this program as participants learn partnership with their horse.
Learning to drive a carriage and communicate with a horse through voice and reins can be empowering. It also teaches our participants about teamwork and trust and can help build core and arm strength. Our fleet of carriages are all wheelchair accessible. Veterans enjoy the camraderie of learning a new skill with others who have served.
Throughout the year we host several gatherings to promote community amongst our vets. Our next event will be our second-annual Veterans Community Open House at Fieldstone Farm from 4-6:30 p.m., June 30.
We invite all active military and service members, reserves, veterans, families and friends to join us for a day full of horses, healing and community. Activities include facility tours, nature walks and round pen demos. The event is free and we also will have complimentary coffee by Scoot! Cold Brew and food by Chef Natalie Blake, thanks to the generous support of our donors.
Community partners include: Adaptive Sports Ohio  Geauga County Veteran Services  Hospice of the Western Reserve  Ohio Military Kids  Stella Maris  SubZero Mission  Suicide Prevention Outreach  Ubuntu Wellness with Rusty White of Yoga Warriors  USO  Valor Home  Veteran Canine Connection  Veterans Affairs Communication & External Affairs Outreach  Veterans Benefits Association  Veterans Health Administration  Warriors Journey Home, and more!
For more information, email programs@fieldstonefarm.org.