We have a wide range of programming for adults from age 18 to those in their 80's.
Our adults come to the farm and find a peaceful refuge from the stressors of everyday life. Most of our students work on their emotional wellbeing but we also have programs for those enjoying the physical and cognitive benefits of working with horses.
We offer therapeutic riding, carriage driving and mindfulness work with our horses on the ground including grooming, walking on our trails on our 45-acre farm and interacting in our round pen. Below are more details of our programs.
Learn more about our programs below or call to find out more information at: (440) 708-0013.
We offer several weekly, adult group lessons of two to four students with similar ages, interests and abilities. Through working with horses participants gain strength, confidence, and greater independence. Instructors teach riding skills while helping each student reach their physical, emotional and cognitive goals. Students ride year-round. Lessons are in our climate-controlled indoor arena, or outside on trail or in our outdoor arena.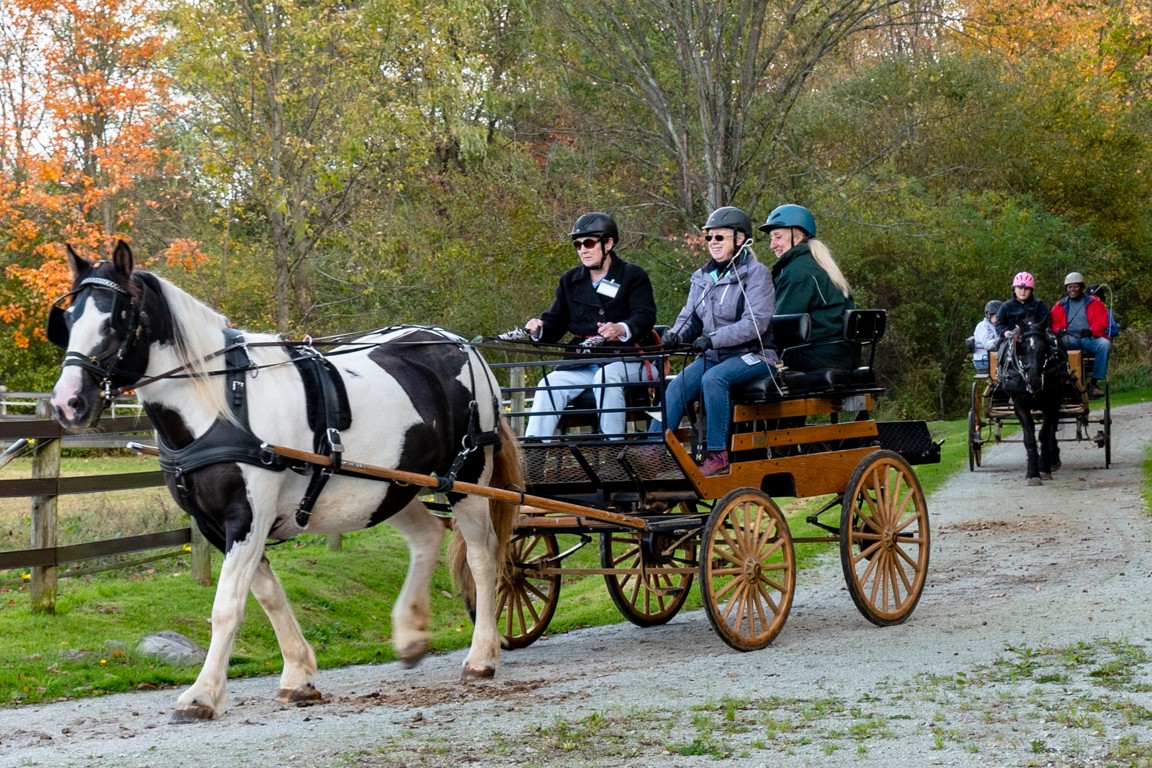 Driving a carriage can be exhilarating as students learn to partner with a horse with their voice and hands. Sitting alongside an experienced driver, students will learn how to control a carriage during a walk, trot and various patterns. Lessons are taught in our climate-controlled indoor arena, as well as outside in our outdoor arena or on trail. Our fleet of carriages are all wheelchair accessible.
Grooming, leading and working alongside a horse teaches participants about relaxation, trust and partnership. These classes are taught in the barn, in our indoor and outdoor arenas, on trail, or in our round pen. Our participants find these sessions uplifting and relaxing as they form a bond with a 1,500 pound animal.
We offer one of the largest equine therapy programs for veterans, active-duty military and their families in the country. Through working with our highly trained team of therapists and horses, veterans learn skills to overcome the struggles and stressors of everyday civilian life and heal from emotional and physical trauma. Our licensed mental health professionals and certified instructors create a safe and accepting environment for our veterans and their families. For more about this program go to our veterans page.
Horses Change Ernest's Life
"Coming to Fieldstone, allows me to take a vacation from my chronic pain," Ernest, a veteran, says, explaining how the horses helped him heal both physically and mentally. "They have transformed my life."