More than 50 Northeast Ohio schools and non-profits come to the farm with their students and clients to experience the healing power of our horses.
We collaborate with organizations to create meaningful programs for our students. Scroll through the programs below to find one that is best for your school or group.
Contact us at programs@fieldstonefarm.org or 440-708-0013, ext. 145 to customize a program for your school or group.
We will need information such as size of group and time of year.
Our School & Group Programs
Riding is one of our most popular programs for schools and groups. No experience is necessary and in fact, many of our students who come with groups have never seen a horse up close, or even imagined learning to ride one around the arena and on trail. Our large arena can be separated into two rings with up to four students in each group. We also have classroom space where we lead horse-related lessons tied to educational goals including math, English, geography or whatever the need may be. Most programs are six to eight weeks during the school year.
Learning to drive a carriage builds confidence and trust. Our students sit alongside an experienced driver as they learn to steer and control the speed of a horse-drawn carriage. We use both our indoor and outdoor arenas, and we also go out on trail in good weather. Most programs are six to eight weeks during the school year.
Our field trips give schools and organizations the opportunity to groom, walk and interact with our horses. We customize each program to fit the needs of the group. We can accommodate up to 20 participants. We schedule these year-round.
Working one-on-one with a horse helps build confidence and trust. While grooming, leading and participating in various exercises, students form a meaningful bond with a four-legged friend.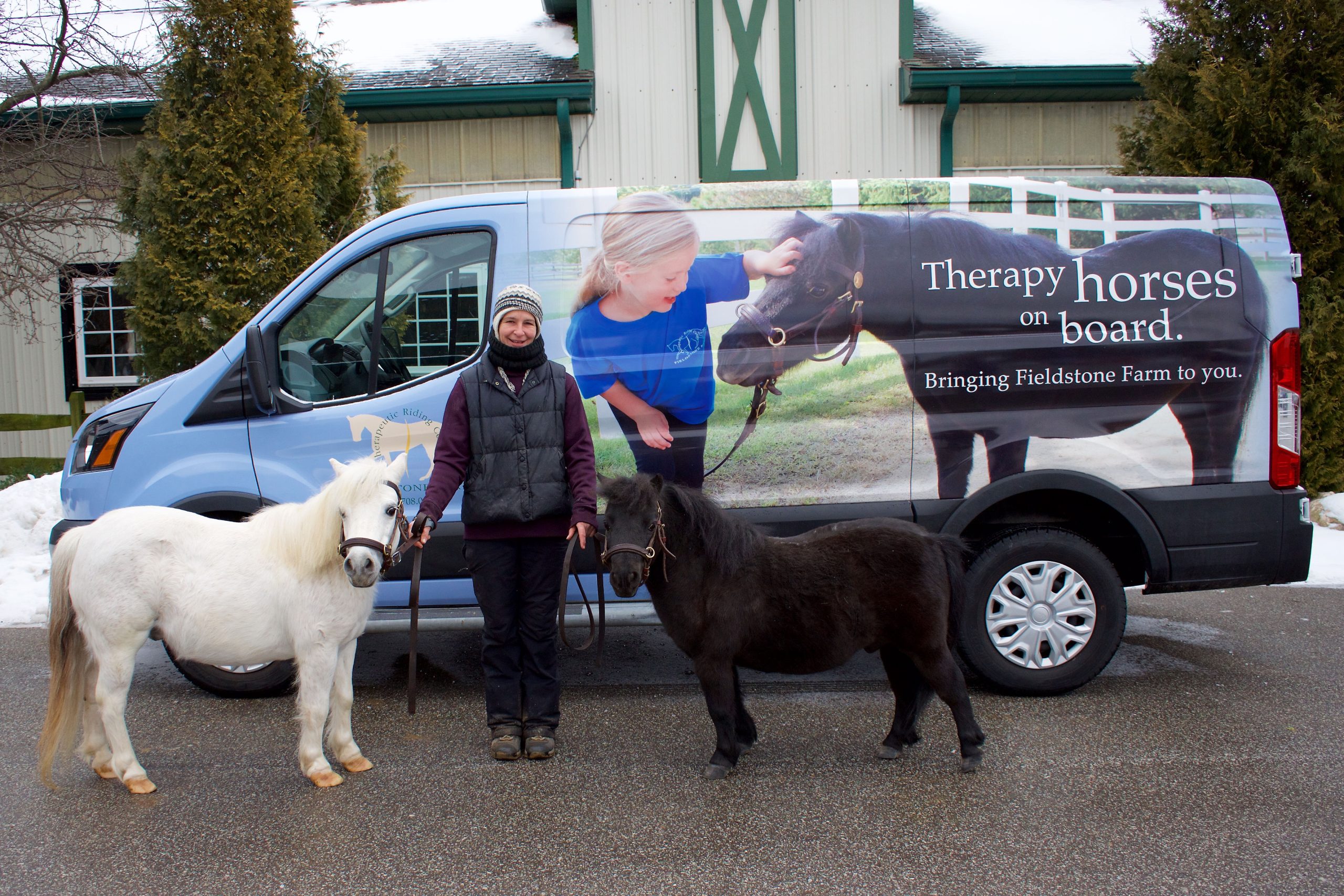 Our miniature horses travel to organizations that are unable to come to the farm. Sometimes this may be a physical therapy center, sometimes it is a retirement home or school, but no matter where they travel, they are sure to put smiles on the faces of everyone they meet.
Reading out loud can be intimidating. But sharing a book with a curious, non-judgmental furry pony, can be a lot of fun. We offer Horse Tales to help young readers improve their literacy skills. Children spend 15 minutes reading a favorite book out loud to one our therapy horses in the barn.
Interested in learning more about horses from the comfort of home.
We are grateful for the partnerships with many schools, groups and non-profits throughout Northeast Ohio.
Beachwood City Schools
Berkshire Local Schools
Bryant & Stratton College
Caley Home
Cardinal Local School District
Case Western Reserve University
Chagrin Falls Exempted Village Schools
Chardon Schools
Cleveland Heights-University
Heights City School District(Canterbury, Fairfax, Monticello and Roxboro)
Cleveland Metropolitan School District (Franklin D. Roosevelt, Lincoln West, Orchard, School of One)
Cleveland VA Medical Center (Blind Rehabilitation Center, PTSD Residential Treatment Center, Spinal Rehabilitation Unit, Women's Treatment Program)
Educational Service Center of the Western Reserve
Footpath Foundation
Galvin Therapy Center
The Gathering Place
Girl Scouts
Hamlet Village Senior Center
Homeschool Support Group
Hospice of the Western Reserve
Hudson City Schools
Kenston Local Schools
Lake County Board of
Developmental Disabilities
Mayfield City Schools (Lander, Mayfield Middle School, Millridge)
Metzenbaum Center
New York University, Department of Child and Adolescent Psychiatry
Nordonia Middle School (Girls Club)
Ohio Operation Military Kids
Our Lady of the Wayside
Positive Education Program
Pressley Ridge
Re-Education Access
Renee Jones Empowerment Center
Shaker Heights Schools
South Euclid Lyndhurst Schools
A Special Wish Foundation
Stella Maris
West Geauga Local Schools
University of Akron
Ursuline College