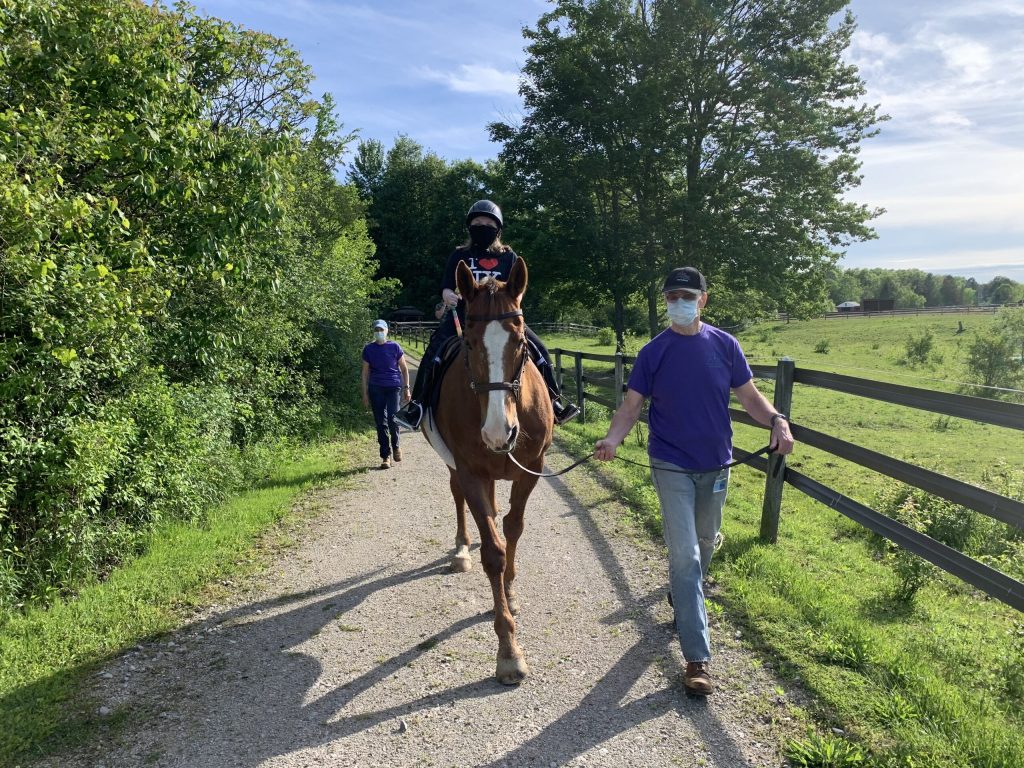 Registration open for Summer Camp!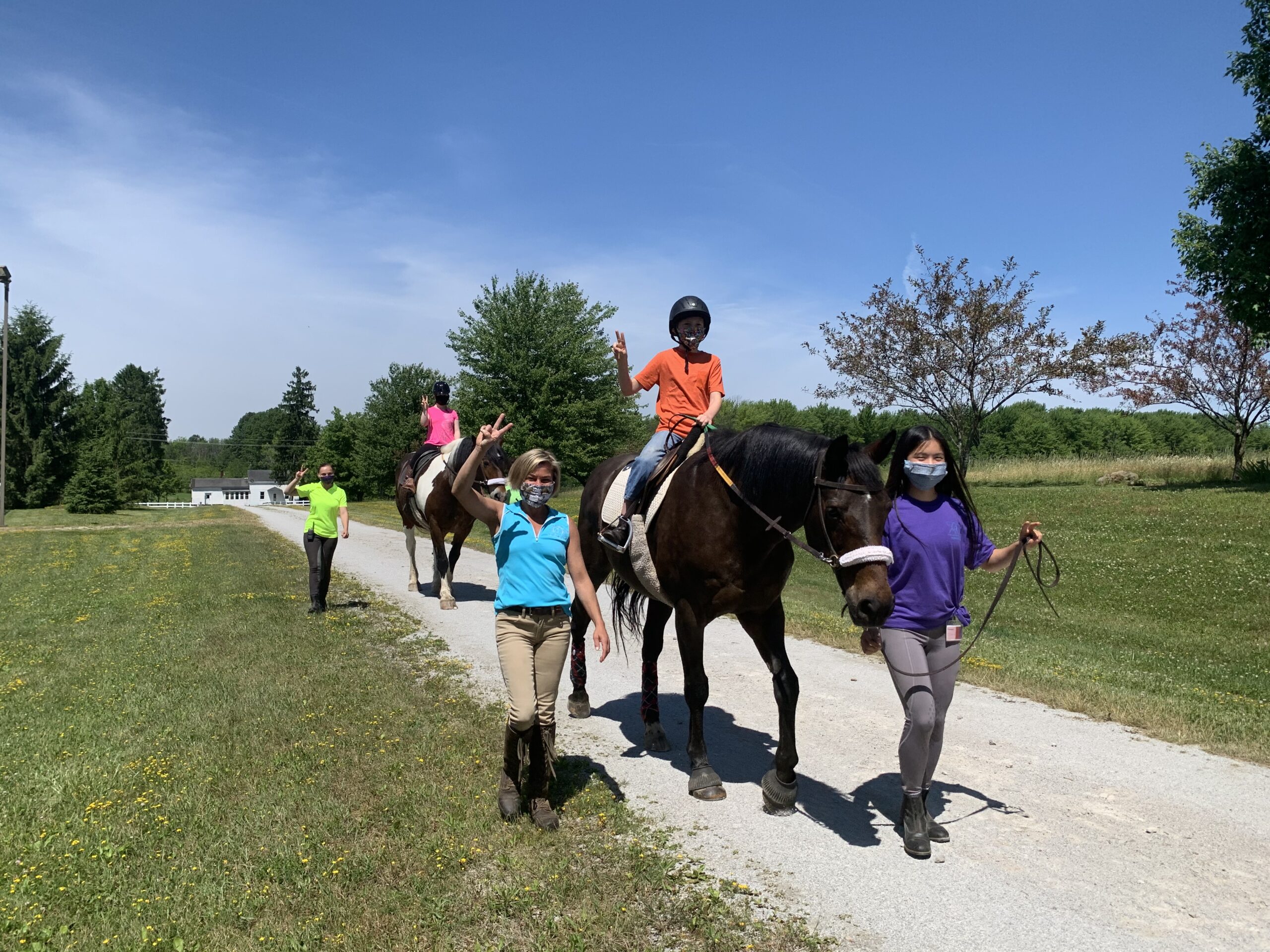 January 30, 2021 — Weekly riding camp sessions start June 7 and run through August 6. Register early, sessions sell out!
Summer Camp at Fieldstone Farm is an exceptional experience where campers discover their unique talents in week-long themed day camps. Camp staff, instructors, and counselors are specially-trained to bring out the best in children with special needs. Camp runs Monday-Friday, from 9:00 a.m. to 3:00 p.m. Each day campers will be assigned a horse to groom, tack and ride, as well as participate in a variety of activities tied to the week's theme. Riders will get a little dirty, play inside and out, and create lasting memories.
Please contact Katy at kflint@fieldstonefarm.org or (440) 708-0013 for more information or questions.
Camp Imagination, June 7-11, $295
Unicorns, dragons, and fairies, oh my! A week of fairy tale fun that focuses on horses and their magical friends in books, movies, and songs. Campers will even create an edible unicorn!
A Horse of My Own, June 14-18, $295
Campers will have their own horse buddy for the week. Throughout the day, campers will learn about their horse buddy, and other friends in their herd, and how horses socialize. Your camper will create a horse of their very own out of many different mediums, including pool noodles, corks, cookies, and more!
All About Horses, June 21-25, $295
What do horses eat? Why do they have different jobs? How do they move? This camp is perfect for the child with lots of questions! Campers will learn about horse care, different breeds, how our barn works, and more! This week is best suited for campers with enough attention span and interest to manage complex activities.
Riding Through Grief, June 21-25, $295
This camp is offered in collaboration with Hospice of the Western Reserve for children ages 8-12 who have experienced the death of a loved one. Through riding and working with horses, campers explore grief issues supported by trained counselors.
Register for this camp by contacting Western Reserve Grief Services at thebereavementcenter@hospicewr.org or (216) 486-6838
Music to Our Ears, July 5-9. $325
Does your child love music? Horses love music too. Campers will create and experience the harmony of riding and music in this unique partnership with daily involvement from a board-certified music therapist. Music will be included throughout the day including riding classes and activities.
Horse Play, July 12-16, $295
Messy fun and games for our active campers. Make playdough, paint with fingers and toes, and even use our horses as a canvas! We will also play water games, weather permitting. This camp is geared towards campers who like a wide variety of activities.
Happy Trails, July 19-23, $295

Does your child love to get moving and be outside? This week is all about the ultimate summer camp experience! We will have picnic lunches, tie dye t-shirts, sing camp songs, and more! One classic feature of a horse summer camp is trail rides. This week will be full of trail rides, obstacle courses on horseback, and other activities to bring out the fun of camp.
Mindful Moments, July 26-30, $325
Enjoy a week of calm connection with our horses. Through auditory (music therapy with our board-certified music therapist), olfactory (scent), and tactile (hands-on barn) stimulation, campers will gain skills to relax and self-regulate. With their horse partners, campers will engage in mindful activities like yoga, meditation, and riding.
Make an Impression, August 2-6, $295
Does your child love to create? Arts and crafts, painting horses, and more! Campers will get their hands dirty by building, painting, and creating their own masterpieces with many different mediums. This week is best suited for campers with enough attention span and interest to manage complex activities.
Camp Details
As part of enrollment, Fieldstone Farm staff meets families through an on-site evaluation. This is an opportunity for potential campers to meet the horses and team; allowing our staff to understand your camper's unique needs. Our camp experience is ideal for youth who:
• Are 6-16 years old at the time of their camp
• Cooperate in a group setting
• Independently eat and toilet
• Clearly express their needs
• Do not require mid-day administration of medication
• Weigh less than 180 lbs as measured on Fieldstone Farm's scale
Health and Wellness
The health and safety of our campers is our top priority. All campers have individual work stations with their own supply kits for the day's activities. All high touch surfaces throughout the facility are disinfected several times daily, and hand sanitizer is available. Everyone at Fieldstone Farm is required to wear a mask when in common areas and in the arena. There will be designated times and spaces for campers to take "mask breaks" throughout the day. Additional information regarding COVID protocols can be found on our website and is updated regularly.
Medical History
Along with the camp registration, we ask for a health and medical history. Please be thorough in completing our enrollment form as it helps us create a supportive experience for your camper. Fieldstone Farm reserves the right to request additional medical information and/or an evaluation by a medical professional prior to or during the course of summer camp. Our camp staff cannot administer mid-day medication.
Registration
1.  Contact Katy Flint at kflint@fieldstonefarm.org or 440-708-0013, ext. 145 to check availability and discuss the registration process.
2.  Submit non-refundable deposit of $120 (per camp week). Deposits are due at the time of registration in order to secure your camper's spot.
3.  Full tuition is due 14 days before the camp session begins. If cancellation occurs less than 14 days in advance, full tuition will be charged.
4.  Upon receipt of your registration and deposit, we will schedule your camper for an evaluation. All campers will be evaluated to ensure a good camp experience. Deposits are refundable only if Fieldstone Farm determines camp may not be a good fit for your child.
5.  Up to two weeks of camp may be reserved per camper. A waiting list for additional weeks will be kept on a first-come first-served basis, however, new campers who have not signed up for any camps will be given priority. If a camp has not filled within three weeks of the start date, names on the waiting list will be notified. You must respond within 24 hours with a confirmation and full payment to book camps from the waiting list.
6.  Siblings and friends of all abilities are welcome!