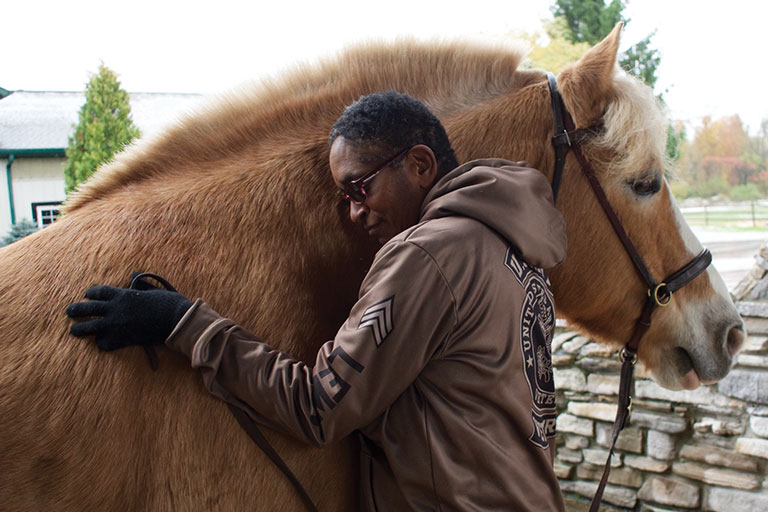 When Jan walks through our barn doors each week, she takes a deep breath and smiles as she greets everyone, including her four-legged friends, with a warm hug. She forgets about everything else going on in her life and takes time to just be with the horses and the supportive community of veterans, volunteers and staff at Fieldstone Farm.
"I call it horse time," says Jan, a retired U.S. Army Sergeant, laughing. Meeting her for the first time it isn't obvious the toll that her military service has had on her life.
"The military changes you and anyone who says it doesn't, is in denial," she says. "Everyone wants you to be normal, but you are not."
Jan enlisted at age 21, as uncles and aunts had done before her, to escape her small mill town in southwest Virginia. She served for 27 years, with three wartime deployments including the Gulf and Iraq (twice).
She is proud of her service but the sounds and sights of combat still haunt her. She was exposed to nightly pops of artillery, pulsating whirls of helicopters overhead, and violent injury and death while overseas.
"I thought I was okay, blocking out some of it, but I wasn't," she says.
Jan started in our equine therapy class just about a year ago. She had grown up around horses and was eager to meet our herd, and see how equine therapy might further her healing. Now Jan comes to the farm every Tuesday morning before heading to her job at the Veterans Administration.
"Fieldstone is another world," she says explaining that she doesn't think about work, appointments or anything else while at the farm, just the horses.
Grooming helps her to relax and destress. She smiles as she scratches a spot on Smoke's belly and he stretches out his head and his lips begin to quiver with pleasure. "I found the spot," she says with a gentle laugh.
"Horses ask us to slow down, be in the moment and focus on our feelings," says Marian, a social worker, who works with our veterans at the farm. When you groom a horse and it tosses its head for example, Marian will ask the veteran to think about why the horse may be acting this way. Often the veteran will realize they may be feeling anxious and as they slow down, breathe, and focus on brushing the horse, both the horse and the veteran settle, relax and begin to enjoy their time with one another.
Jan has also worked with our horses in our round pen, where the horse is "at liberty" with no reins or halter and is allowed to freely move about. During a recent session, Jan used her body language to encourage the horse to walk alongside her. Slowly the horse got the idea and headed her way. Together they moved in step along the fence line. The connection made her feel empowered. After a few laps she walked to the center of the round pen, the horse followed her and then "joined up," resting his head on her shoulder. This experience of being in partnership with a horse was thrilling. Jan gave the horse a kiss and grinned with satisfaction at the bond they had formed.
"When you get a horse to respond, like when it puts its head on your shoulder or you breathe in-sync together, the connection feels so good you just want to experience that over and over again," says Marian, explaining that these experiences can carry over into other aspects of people's lives. Just remembering that same feeling during an anxious moment in the day can completely help you reset.