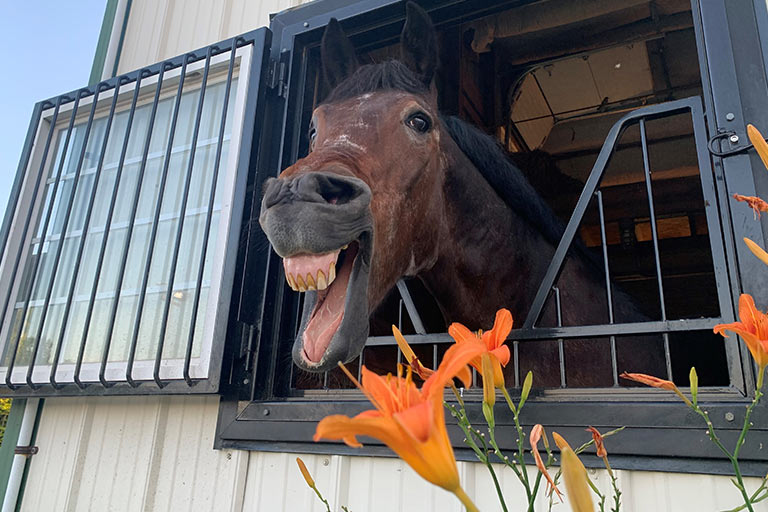 Kindly rescued by Julie Copper
Generously sponsored by The Helen F. Stolier & Louis Stolier Family Foundation
Hi there!  My name is Levi. I am so happy to have joined this wonderful program in February of 2021. I am also very grateful to Julie Copper, of Copper Horse Crusade, for recognizing my potential and selecting me from the hundreds of other horses in the feed lot. I was one of the lucky ones.
You see, I am a retired Amish buggy horse.  I was born in 1998 and worked all my life.  When I couldn't do my job, I ended up in the feed lot. After Julie brought me home in October of 2020, I stayed with her for 30 days while she evaluated me. That is when Fieldstone found me. They saw the same thing Julie did. A handsome bay, 16.1-hand, draft cross guy with the sweetest eye; they knew I would fit right into the team.
Boy, were they right!  I just love it here. I am very laid back with exceptional manners. Not to brag, but I think I am one of the sweetest horses in the barn.  I just want to please. I am rock solid when it comes to driving. I had a few years of practice, lol! I am also very good and responsive when being ridden. Please keep in mind that I need verbal cues. That is what I am used to and I respond very well to them. I stand like a statue for grooming and I pick up my hooves very well. Some draft horses aren't taught this but I was.
The activities in the ring are a bit different than what I am used to, but I am not phased. I am just that relaxed. I will listen to you as my leader if I need assurance. I also recognize 'tone' in your voice. I love all my new friends – both people and horses.  I can tell that I am really loved and appreciated here. See you soon!