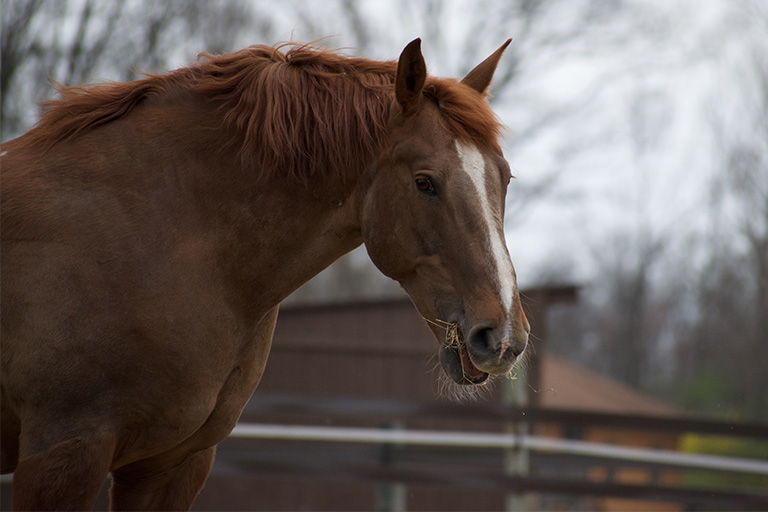 Generously donated by
Carla and John Babcock
Hi there folks, my name is Logan. I am a big, strapping guy but don't be intimidated by my size (especially my large head). I am really just a big teddy bear. I am a 16.1-hand chestnut Belgian Quarter Horse born in 2004. I am a true gentleman. I stand like a statue to be groomed and have very good ground manners. My donors, Carla and John Babcock, made sure I had all the proper training. I was on the hunt field for many years until 2017 when I tore my left rear ligament. I am all healed and cleared for work and I became a part of the Fieldstone Team in April of 2019. I am just thrilled to be here and feel that I have so much to offer this program.
I have done it all – fox hunting, parades, trail riding and I have been ridden both English and Western. I enjoy lots of attention and lots of different activities. Nothing phases me; I have pretty much seen it all. I am very good with all the ring activities. I am super easy to lead, but please don't forget to give me verbal guidance. I am very easy to work with and responsive to my rider. I am a very laid-back fella and I enjoy working. This big body was made to work. With these long legs you would expect me to have a big walk, right?! Nope, not me. I like to walk at a nice leisurely and consistent pace. I am perfect for independent riders since I am so steady and even. Everyone will want to ride me; I don't make a wrong move.
This big huggable guy will see you very soon, I am sure!