"We can't help everyone, but everyone can help someone."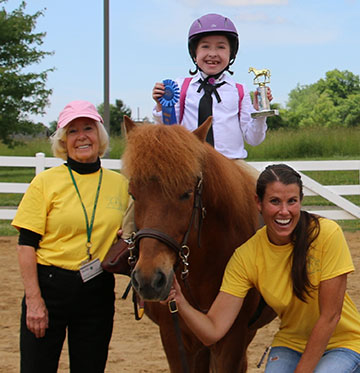 It is this quote from Ronald Reagan that spurred longtime supporters Sheila and Walt Collins to call Fieldstone Farm and direct a major gift to our endowment campaign. The couple developed a love for Fieldstone since Sheila started volunteering more than seven years ago after a long career as a nurse for Bellefaire JCB residential treatment center. They know how our gentle therapy horses can bring such joy to our students.
Walt became a trustee of the Richard J. Fasenmyer Foundation after his dear friend Dick Fasenmyer died. Walt and Dick had met at a public accounting firm early in their careers and they remained good friends for many years. Dick embraced life and enjoyed giving to others. He joined Walt Sheila and their five kids on their family vacations frequently. Walt, Sheila and Dick owned Thoroughbred racehorses together for more than 20 years.
Dick went on to own his own company, RJF International, and started the Richard J. Fasenmyer Foundation with
the mission of funding research for clinical immunology and support for the arts. In recent years, RJF Foundation has made major gifts to the Cleveland Clinic, Case Medical School and Playhouse Square.
In 2018 all of the RJF trustees had the opportunity to direct some discretionary dollars. Fieldstone was fortunate enough to be one of the organizations that Walt and Sheila chose. Dick loved horses and Walt and Sheila knew he would love how the horses are impacting people's lives at Fieldstone Farm.
Dick also loved surprises. So Walt and Sheila decided to share the news in person. They invited CEO Lynnette Stuart and Cheif Development Officer Maureen Foster to lunch at a local restaurant in Chagrin Falls. When they broke the news, the kindness and impact of the gift brought tears to Lynnette's and Maureen's eyes. They were completely stunned. Walt said, "Giving is fun!" He was quite sure that Dick would approve.
The trio of friends continue to make an impact even after Dick's passing and they couldn't be happier to have his memory live on through the programs at Fieldstone Farm.