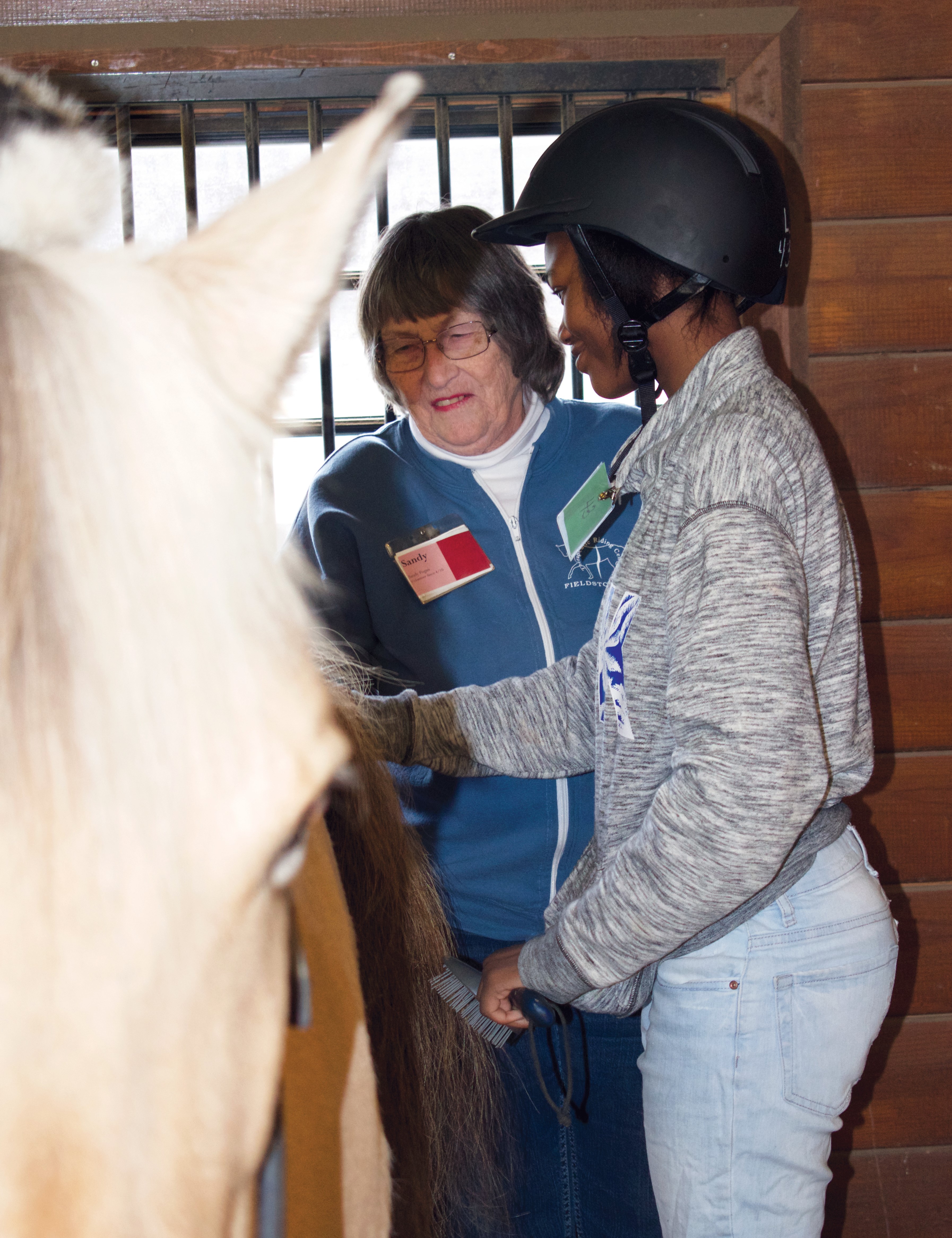 Before coming to the farm, Tajae (pictured above) had never been near a horse, but she relished grooming Anna with the help of our volunteer, Sandy.
For several years, our horses have been working with victims of human trafficking and sexual assault through a partnership with the Renee Jones Empowerment Center which helps minors and adults restore their physical and emotional well-being.
Many of these women have never been eye-to-eye with a 1,500 pound-horse. Unsure of what they will find, they are greeted by gentle giants, that don't judge, but rather ask that they be present and in the moment. Connecting with our therapy horses helps these women heal from the past, cope with their PTSD and find happiness.
"To be able to work with these large animals and experience the love they can give is so healing to someone who has experienced a lot of trauma," says Renee Jones, President & CEO of the center.
For Rachel, her bond with one of our horses changed her life. She used to have panic attacks but horses taught her how to overcome her anxiety. One day she was walking George, a 16.3-hand former jumper turned therapy horse, and her heart began to pound. George sensed her fear, his ears perked up, and he became scared too. Our instructor worked with the two of them, asking Rachel to take deep breaths and relax.
As she began to calm down, so did George. This experience made her realize she had influence over this large animal, and breathing and focusing on the present could help regulate her emotions. They were partners and she is so thankful for the experience. Rachel put a picture of George on her mobile phone so when she felt like a panic attack was coming she would look at George and he would calm her down and help her escape the panic attack. She trusted George and she knew he trusted her because he loved her gentle touch when she would groom him. Now she has transferred this learning to daily life and no longer has panic attacks. George made an impact.