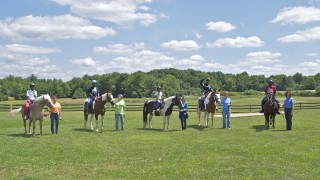 Open Doors Academy brings students to Fieldstone Farm every summer to learn and grow from our horses. They work to build confidence, trust and respect while grooming and riding our horses each day.
Learning to control a 1,000-pound animal at a trot can be extremely empowering for these kids. And while grooming, students connect with the horses finding comfort and strength. For some students, working with horses can immediately impact their attitude toward learning and participating in a group.
"Being around horses and the farm transforms our students. They have a different energy at Fieldstone Farm. They are respectful and gentle with the horses and so proud of learning to ride," said Amy Btiebet of Open Doors Academy, adding that Fieldstone Farm's camp is one of their most popular camps of the summer.
Many of these kids have never had the opportunity to leave the city and enjoy a farm. They walk out our barn doors with a greater belief in themselves and an experience that they will remember for a lifetime.