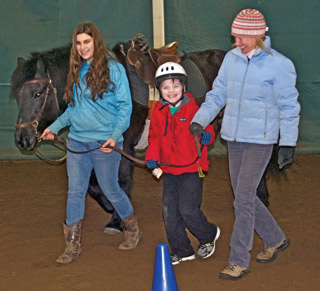 Longtime volunteer Marian Ruddock has witnessed many student milestones that have deepened her belief in the power of horses. "It's easy to find joy in the small miracles that take place here every day," she says recalling when…
A young man with little confidence, found success with horses and began to believe in himself.
A teenager who rarely speaks, became so relaxed and comfortable around the horses that he initiated a conversation with others.
A student with autism who often rocks back and forth, sat absolutely still and connected to the world while riding.
A veteran realized she was capable of being more open and patient with others after interacting with our horses.
"This is the magic that happens every day with the horses at Fieldstone Farm," Marian says. "The bond between horse and rider has no boundaries."
Volunteer since 2005